Your employer wanted you to benefit from a PERE-CO (Plan d'Épargne Retraite d'Entreprise COllectif), a collective company retirement savings plan. Take advantage of its benefits to prepare your projects with confidence.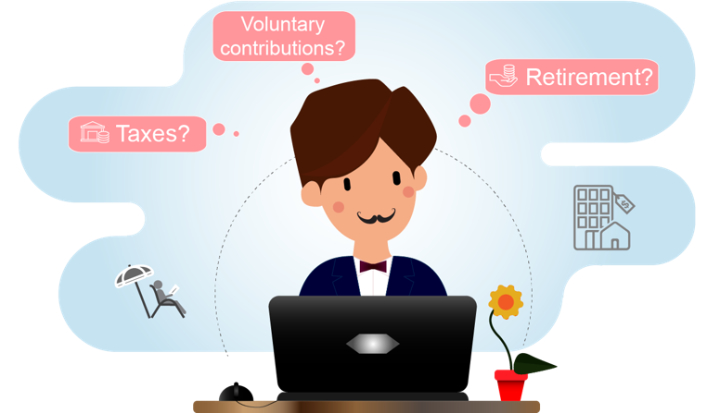 For a contribution of €125 per month, James will save €450 in taxes per year and will
benefit from a capital of €36,778 upon retirement (details and assumptions below).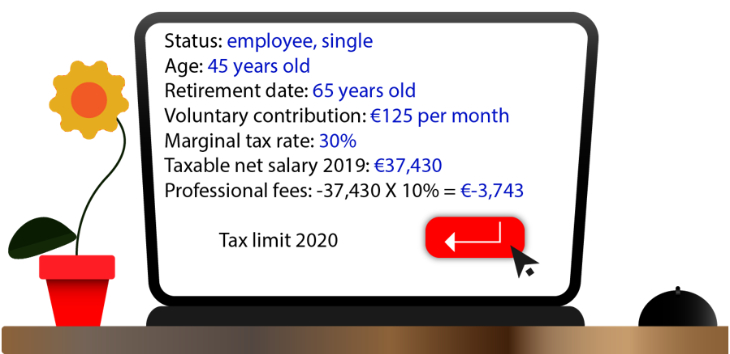 Let's look in detail at the result that James will obtain:
Calculation of the theoretical tax available: (37,430 – 3,743) X 10% = €3,368
Knowing that the tax envelope deduction limits for 2020 must be between €4,052 (10% PASS N-1)
and €32,419 (8 PASS N-1 X 10%)
James will be able to deduct his voluntary contributions up to €4,052 (minimum value).
1st advantage: a tax saving

For €1,500 of voluntary contributions per year (or €30,000 in 20 years) James will make a tax saving of €450 in 2020 (1,500 X 30%), or by assumption €9,000 in 20 years

2ème advantage: Additional pension

€1,296 additional gross annuity from age 65 or a capital of €36,778 gross for a financial effort of €21,000 over 20 years (30,000 – 9,000)
How to know the deduction limit for each employee?
Refer to the retirement savings limit on page 3 of the lastest income tax notice. It is possible to benefit from the spouse's unused amount.
NB: payments made on a mandatory basis (employer and employee) as well as the possible employer contribution are already deducted from the indicated amount.
Source: HSBC Global Asset Management. November 2020. PASS = Plafond annuel de sécurité sociale (Annual social security limit). For 2019 = €40,524
Example provided for illustrative purposes only. Tax savings established with the income tax scale known on January 1, 2020. This calculation does not include the family quotient cap rule. Return net of fees per assumption: 2%.
2020-683 decree as at June 4th 2020 authorizes an early release of your profit sharing plan or assets held on your Company Savings Plan ("PEE") if you are victim of violence.
Main conditions: civil or criminal court proceedings must be initiated in favour of the account holder.
To know more about documentary proof