Give meaning to my savings
Thanks to employee/retirement savings plan, you can invest in your future while contributing to a sustainable economy and to the planet's preservation.
Discover these investment solutions by investing differently:
Solidarity-based savings: a must for your employee savings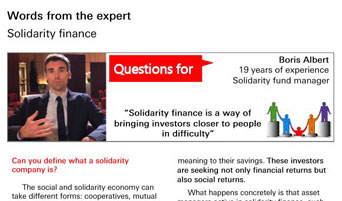 Boris Albert, solidarity fund manager enlighten us on solidarity based savings, which pursue social and human objectives.
Find out more with 4 solidarity companies invested in our funds



Read the interview
Key information

A humanitarian aid organisation that strives to provide the basic needs of people affected by major crises - whether man-made or caused by a natural disaster - and to strengthen their resilience in areas such as access to water, hygiene, sanitation and food security.




Read the interview
Key information

A company that builds and manages social housing. It helps individuals and families in need to access affordable housing, while providing local support that helps people improve their lives.




Association pour le Droit à l'Initiative Economique arranges microloans to help people excluded from the traditional labour market and banking system to set up their own business and create their own employment.

Copyright logo 2021.




France Active seeks to boost the capital of social impact companies and non-profit organisations to help them create jobs, with priority given to those suffering social exclusion.
Socially responsible investment (SRI) to combine sustainable behaviour and economic performance
Socially Responsible Investment (SRI) aims to reconcile business performance with social and environmental impacts by funding companies and public entities that contribute to sustainable development, regardless of their sector of activity. By influencing corporate governance and behaviour, SRI promotes responsible business practices.
SRI ensures transparency and traceability for your savings. You are aware of the selection process, you are regularly informed of SRI ratings of selected companies and the entire portfolio composition is published.
| | |
| --- | --- |
| Copyright logo 2021. | Public authorities have implemented a label to help savers to choose their SRI products: The SRI label, a unique reference for the individual investor. |
Five of our employee savings funds are following this approach:
Four of this employee savings funds are labelled by the Comité Intersyndical de l'Epargne Salariale (CIES) :
Environmental, Social and Governance (ESG) criteria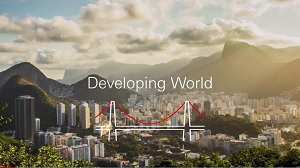 A careful consideration of Environmental, Social and Governance (ESG) issues plays a key and integral part in how we connect the developed and developing worlds to unlock sustainable investment opportunities for our clients. Watch this video to learn why we take our stewardship responsibilities seriously and focus on leading by example.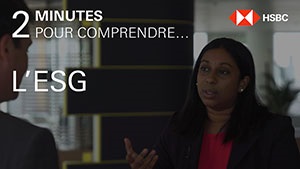 2 minutes pour comprendre... l'ESG
Shehani Thanthrilag, ESG analyst, gives actual examples of ESG analysis